Meet everyone's favorite messy sandwich in handheld form. The great thing about this recipe is that it can be as homemade or as quick as you want it to be. Don't like making homemade pie crust? Use store-bought instead! Have a favorite canned sloppy joe sauce? Go for it! No matter what you choose, you're sure to enjoy this twist on a comfort food classic!
Great recipes start with great ingredients. I prefer to grind my wild game without any added fat and add in fat when I cook it. It makes grinding the meat through my #22 Big Bite Meat Grinder a breeze. This recipe uses 1 Lb of coarse ground elk but will work with any ground meat in whatever consistency you prefer!
Yield: 32 hand pies
Prep Time: 45 minutes
Cook Time: 2 hours
Ingredients:
Sloppy Joe Filling:
1 lb coarse ground elk (or other lean ground meat)
2 Tbsp lard (only needed if your meat doesn't have fat ground in)
1 Tbsp ancho chile powder
1 Tbsp smoked paprika
¼ tsp salt
¼ tsp black pepper
1 cup yellow onion, finely diced (about 1 medium onion)
1 cup red bell pepper, finely diced (about 1 medium bell pepper)
1 Tbsp minced garlic
1 cup ketchup
3 Tbsp spicy brown mustard
3 Tbsp tomato paste
3 Tbsp Worcestershire sauce
2 Tbsp apple cider vinegar
½ tsp liquid smoke
½ tsp hot sauce (optional)
Pie Crust:
4 cups all-purpose flour
1 ½ tsp sugar
1 ½ tsp salt
1 cup + 10 Tbsp unsalted butter (3 sticks + 2 Tbsp), cut into small cubes or grated
½ cup ice water
Other Ingredients:
2 cups shredded cheddar cheese
1 large egg
1 tsp cold water
Instructions: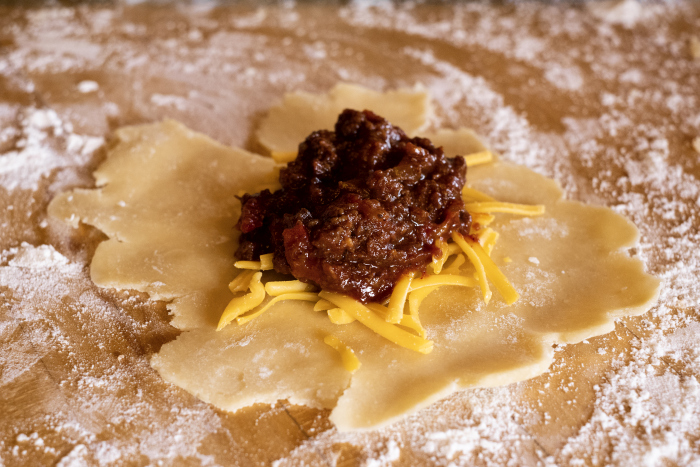 Sloppy Joe Filling:
Heat the lard in large skillet or dutch oven over medium heat. Add ground meat, spread it out in a single layer, and cook until meat starts to brown, about 2 minutes. Add in chili powder, smoked paprika, salt and pepper and stir until meat is well-coated. 
Add in diced onions, diced bell pepper, and garlic. Break meat into smaller pieces with a wooden spoon or spatula. Cook until meat is fully browned and vegetables are softened, 5-7 minutes.
While meat is cooking, mix together ketchup, mustard, tomato paste, worcestershire sauce, vinegar, liquid smoke, and hot sauce. Add sauce to pan and stir until combined.
Bring mixture to a simmer, then reduce heat to very low. Mostly cover pot with lid, allowing for a small vent hole. Cook for 1.5 hours, stirring occasionally. Add in water a couple tablespoons at a time if mixture starts to dry out.
Pie Crust:
While sloppy joe filling is cooking, prepare pie crust.
Add flour, sugar, and salt to food processor. Process until well-combined.
Add in cubed or grated butter and process until butter is well-incorporated into dry ingredients. Butter pieces should be less than pea size.
Add in ¼ cup ice water, 1 Tbsp at a time, to processor and process until combined. Add in remaining ¼ cup ice water and finished kneading dough by hand.
Divide dough into 2 discs. Wrap in plastic wrap and refrigerate at least 1 hour.
Notes: your dough may need more or less water depending on the moisture content of your butter and flour. Add enough water to make the dough moist but not sticky. Be careful not to overwork the dough or it will become tough.
Hand Pies:
Preheat oven to 425oF. Line 2 sheet pans with parchment paper.
Divide each dough disc into 16 balls to make 32 balls total.
Roll each ball into a 6 inch rough circle. They don't have to be perfect!
Working with 1 hand pie at a time, add 1 Tbsp shredded cheese and 2 Tbsp sloppy joe filling to each dough circle.
Wet fingers with cold water and lightly wet the edges of the circle. Fold one half over the filling. Press dough down to seal the edges and fold the bottom edge over. Seal by pressing a fork around the edges.
Place hand pies on parchment-lined sheet pans. Cut slits in the top to vent.
Beat egg with 1 tsp cold water. Brush each hand pie with egg mixture.
Bake for 18-20 minutes or until golden brown and filling starts to bubble.
Let cool for 5-10 minutes before serving. Filling will be very hot!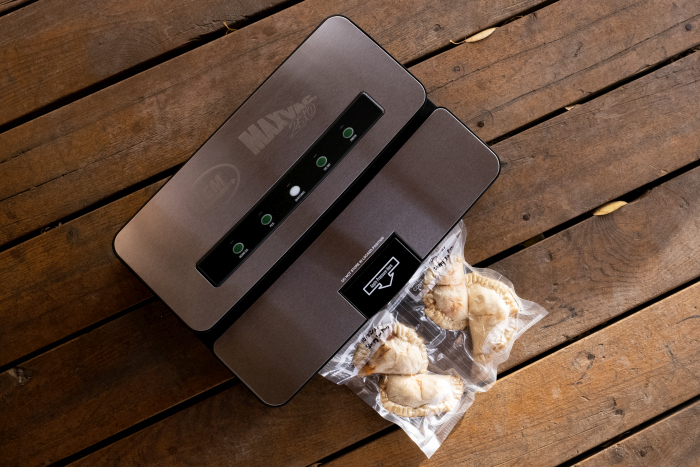 To Freeze:
Preheat oven to 425oF. Follow all instructions above but do not brush with egg and only bake for 5-10 minutes to set the crust.
Let cool slightly then place entire sheet pan in the freezer. Freeze until solid, then add one meal's worth of hand pies to MaxVac Portion Vacuum Bags. Vacuum seal using the pulse function on the MaxVac 250 Vacuum Sealer to avoid crushing the hand pies. Freeze for up to 3 months.
For baking, thaw hand pies in the refrigerator on parchment paper-lined sheet pan. Brush with egg mixture just before baking. Bake for 15-18 minutes at 425oF or until golden brown and filling starts to bubble.
About the Author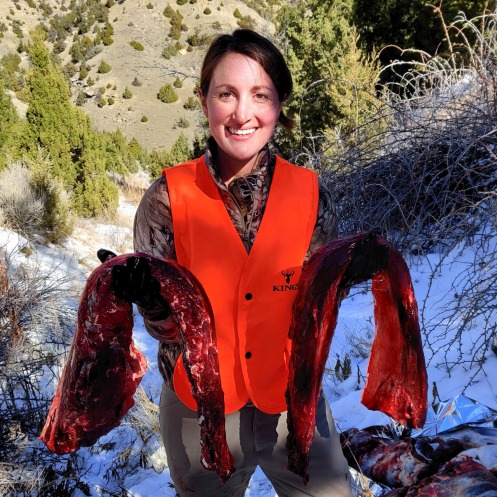 Annie Weisz (@peak.to.plate) is a wild game cook, Wyoming native, outdoor enthusiast, and lover of all things food. She got into hunting and processing her own wild game as another way to enjoy the outdoors while providing her family with high quality meat. As a mom of 2 boys with endless appetites, having a freezer full of meat is a necessity! In addition to creating recipes for her blog, Peak to Plate, she has a career as a Registered Dietitian. Sharing food with others is one of Annie's biggest passions. Whether it's preparing meals for her family, teaching her sons to cook, bringing baked goods to friends, or creating new recipes, sharing food is what brings her joy. She believes that creating delicious recipes and enjoying them mindfully is the best way to pay respect to the animals that she and her husband harvest. Annie hopes that creating innovative wild game recipes will inspire hunters to be more adventurous in preparing their harvests!