Steak fingers are like a fun finger food version of chicken fried steak. They're easy to make and are a great use for those wild game steaks that you're not really sure what to do with. You know, the leftover ones from butchering that are a weird shape, or you don't know what cut they came from? Tenderize them and make them into steak fingers! The 2 in 1 Jerky Slicer and Tenderizer isn't just for jerky and it makes tenderizing meat a breeze.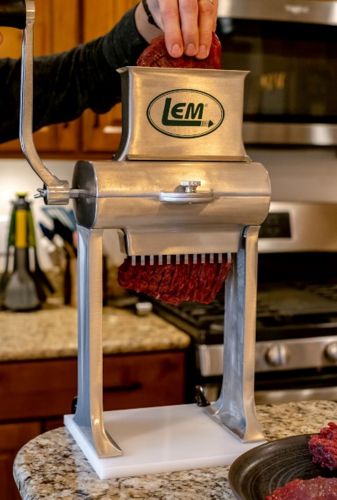 Harissa is a deliciously smoky and spicy condiment that originated in North Africa. You can make your own using the recipe below or it's often found with other condiments or hot sauces at the grocery store. Either way you choose, mix it up with some mayo for your new favorite dipping sauce! The vibrant, spicy sauce is the perfect pairing for crunchy on the outside but tender on the inside steak fingers. Next time you think about making chicken fried steak, reach for this recipe instead. You won't be disappointed!
Yield: 6 servings (4 steak fingers each)
Prep Time: 30 minutes
Cook Time: 20 minutes
Ingredients:
Harissa (makes 1 cup):
3 Guajillo chiles (or Ancho, Pasilla, or New Mexico chiles)
10 chiles de arbol
Boiling water
¼ cup tomato paste
1 tsp cumin
1 tsp smoked paprika
½ tsp ground coriander
2 cloves garlic
3 Tbsp apple cider vinegar
½ cup olive oil
Harissa Mayo:
3 Tbsp harissa (from above)
¾ cup mayonnaise
Steak Fingers:
2 lb elk steak, about ½" thick (or other red meat)
Salt
Pepper
¾ cup all-purpose flour
4 large eggs
1 ¾ cups plain breadcrumbs
Canola oil, for frying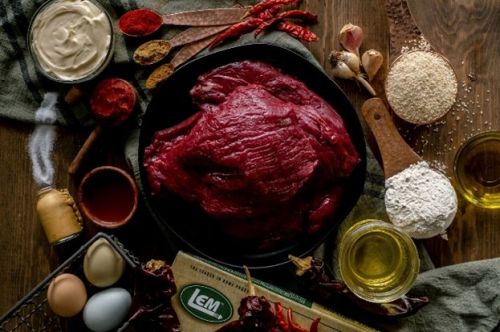 Instructions:
Harissa:
Place guajillo chiles and chiles de arbol in a glass bowl. Cover with hot water and let sit for 15-20 minutes.
Once chiles are softened, use gloved hands to remove seeds and stems. Place chiles in a food processor.
Add all ingredients except olive oil to the food processor. Blend until well combined. Add in olive oil and pulse a few times until olive oil is mixed in. Refrigerate until ready to use. Harissa can be made up to a few days ahead of time.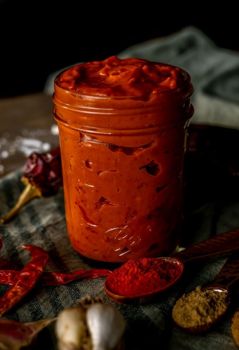 Harissa Mayo:
Whisk together harissa and mayonnaise. Refrigerate until ready to serve.
Steak Fingers:
Make sure steaks are approximately ½" thick before tenderizing. Butterfly steaks if necessary.
Run steaks through 2 in 1 Jerky Slicer and Tenderizer and follow manufacturer's instructions.
Cut tenderized steaks into 24 strips, approximately 1" wide. Season with ½ tsp each of salt and pepper.
Pour oil into a deep skillet. You'll need enough oil to completely submerge the steak fingers, at least 2".
Heat oil to 300 degrees F.
Preheat your oven to 200 degrees F and line a sheet pan with paper towels.
Place flour, eggs, and breadcrumbs in separate shallow bowls.
Mix ¼ tsp each of salt and pepper into flour.
Whisk eggs and mix in ¼ tsp each of salt and pepper.
Mix ½ tsp each of salt and pepper into breadcrumbs.
Work in batches of 6-8 strips at a time, depending on the size of your skillet. Make sure there is enough space between steak fingers in the pan to ensure even cooking. Only bread the amount you're going to fry. If they sit too long without being fried, they will become soggy.
Coat meat strips in flour and shake off excess.
Dip meat strips into eggs and let excess egg drip off before breading.
Coat meat strips in breadcrumbs. Make sure meat is completely coated but don't press breadcrumbs into meat. Shake off excess.
Gently lay breaded meat strips into oil. Fry for 3-5 minutes or until breading is golden brown and crispy.
Place steak fingers on a paper towel-lined sheet pan and place in the oven to keep warm while you fry the rest.
Serve with harissa mayo on the side for dipping.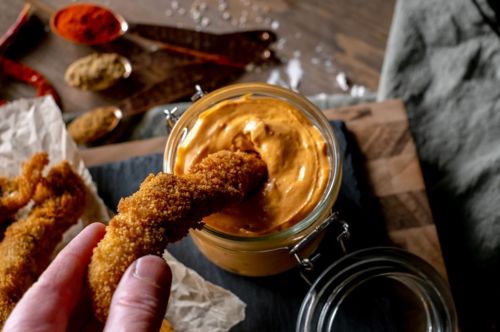 About the Author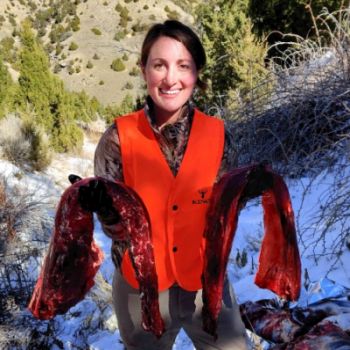 Annie Weisz (@peak.to.plate) is a wild game cook, Wyoming native, outdoor enthusiast, and lover of all things food. She got into hunting and processing her own wild game as another way to enjoy the outdoors while providing her family with high quality meat. As a mom of 2 boys with endless appetites, having a freezer full of meat is a necessity! In addition to creating recipes for her blog, Peak to Plate, she has a career as a Registered Dietitian. Sharing food with others is one of Annie's biggest passions. Whether it's preparing meals for her family, teaching her sons to cook, bringing baked goods to friends, or creating new recipes, sharing food is what brings her joy. She believes that creating delicious recipes and enjoying them mindfully is the best way to pay respect to the animals that she and her husband harvest. Annie hopes that creating innovative wild game recipes will inspire hunters to be more adventurous in preparing their harvests!