If you are a Taco Bell fan you have to try this Venison Crunchwrap recipe!
Taco Bell is honestly my favorite fast-food restaurant. Where else can you get ridiculously full with like only $5?? For most of my life I had my Taco Bell order locked and loaded and ready to go (chicken quesadilla, bean burrito, and spicy potato soft taco) until I met my husband. He loves the boxes they make and especially the cravings box they do with the Crunchwrap supreme. I copied him one time and I was hooked. Crunchwrap supremes are to die for! I even get them vegetarian with black beans if I am trying to be a little less unhealthy lol.
I've been dying to make my own venison version basically since I started this website, but I never had any venison to work with. Now that I have some axis deer, I was finally able to do it! I used my LEM Big Bite #8 Meat Grinder to grind the axis deer into ground venison for my recipe and used the LEM MaxVac 250 Vacuum Sealer to store some of the extra ground venison for later fun recipes!
It turned out great! Honestly axis deer is so mild that if you gave this Crunchwrap to some random person on the street there is almost no chance they'd know it's venison. With archery deer season having started in most states, those empty freezers should be getting full soon. Give this recipe a try with some of that grind you don't know what to do with and let me know how it goes in the comments! If you guys and girls like it, I might do a whole taco bell series with some wild game flair! But until then I hope you ENJOY this recipe!
Ingredients
6 small tostadas or corn tortilla street tacos
1 lb ground venison
1 packet taco bell seasoning
2 T avocado oil
6 burrito sized flour tortillas
6 street sized flour tortillas these reinforce the seal but are not necessary
15 oz Rico's gourmet nacho cheese or your favorite nacho cheese
2 tomatoes deseeded and chopped
1 onion chopped
shredded lettuce enough for desired filling
shredded cheese enough for desired filling
sour cream enough for desired filling
Instructions
Grind your venison in a LEM Big Bite #8 grinder.
Heat a skillet over medium high and add 2 T of avocado oil.
Once hot, add the venison to the skillet and brown.
Add seasoning with 3/4 C of water to the skillet.
Bring to a boil.
Turn down to medium low for 10 minutes stirring occasionally. Cook until a majority of the water has evaporated.
If you have tostadas use those.
If you have corn street tacos brush them with avocado oil and put them into a 450°F oven for 3 minutes. Flip them over and cook for another 3 minutes or until crisp.
Creating your Crunchwrap
Place your big burrito size flour tortilla on a flat surface.
Place 3 heaping T of meat in the center of the tortilla.
On top of the meat place 2 T of queso and gently spread to cover the meat.
Place the tostada on top of this.
Top the tostada with sour cream, lettuce, onions, tomatoes, shredded cheese, and any other toppings you would like. I do 1-2 T of each to ensure the tortilla will close around it.
If needed, place the small flour tortilla over top and crimp the big flour tortilla around everything. Do this by carefully folding in each side roughly 5-6 times.
Heat a clean skillet over medium heat.
Place your crimped crunchwrap side down first to seal it shut.
This should take around a minute but make sure it is browned and sealed off.

Flip and brown the other side and ENJOY!!
Notes:
Prep Time: 30 minutes
Cook Time: 20 minutes
Assembly Time: 10 minutes
Total Time: 1 hour
Serving: 6 crunchwraps
To adjusting the serving size and ingredients accordingly, check out this recipe on Sophie's website and many others.
About the Author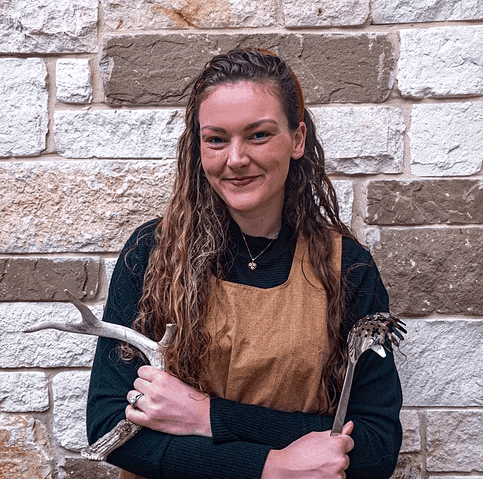 Hi y'all! My name is Sophie Milich May (@wifeofahuntercooks) and I live in Texas. I grew up around hunting with my father and Poppy both going as often as they could. I have even had the fortune to go deer hunting and dove hunting. A year ago I married my husband and he slid right into the family, hunting just as often. He is more adventurous and has had the opportunity to go alligator hunting and brings in the occasional squirrel. Since we have so much game in our freezer AND I absolutely love to cook, I figured I would start a blog of recipes to help others navigate the world of game. The goal is to one day make a cookbook so all of my recipes are easy to access, but, in the meantime, ENJOY!