This Venison Meatball Sub is the first recipe I'm using my Venison Italian Sausage with, and it is delicious!
One thing I find lacking in the wild game community is what to do with your sausage after it is made. My husband has a ton of wild game cookbooks from Steven Rinella, Hank Shaw, and Jesse Griffiths. They have some awesome stuff in there, but again I wish they talked more about how to transform your sausage. Obviously, you can just grill any sausage and go to town, but that can get boring. I'm hoping to give a little more insight and creativity with what I do to mine, but don't let my ideas be your limit. Make any amazing dish your heart desires!!
Furthermore, I love a good meatball sub! Whether that be from Firehouse, Subway, or any other sub place (San Antonio is good for local Mexican food, but not so good for subs lol). It's such a simple meal yet it is so good! It only really requires bread, meat, sauce, and cheese. It also dresses up what can be, again, a simple meal of meatballs with some of my favorite things in the world, carbs!! This is a family pleaser and will appease your pickiest of eaters so let me know in the comments how it goes and ENJOY!!!
Ingredients
Meatballs
2 lbs Venison Italian Sausage
2 large eggs whisked
1/2 C whole milk
3/4 C bread crumbs
2 jars pasta sauce. I did one with Spicy Arrabbiata sauce and one with roasted garlic sauce; use your favorite (I use Rao's)
Sandwich
7 sub rolls sliced but not all the way through
Garlic butter spread I used the HEB kind found in the bakery
10 provolone slices
Italian seasoning
Instructions
Preheat oven to 350°.
Meatballs
Mix all meatball ingredients (except pasta sauce) in a bowl well.
Shape into meatball sized balls. I made mine about 2 inches in diameter. You can make them bigger or smaller, but you will have to adjust cooking times.
Place pasta sauce in a large shallow sauce pan. I used two different pans because I used two different sauces.
Heat the pasta over medium heat. Bring it to a strong simmer then lower the temp to keep it going but not a boil.
Place meatballs in sauce and simmer for ~20 minutes with a lid covering the pan. DON'T FLIP EARLY- or your meatballs will break.
Once time is up, flip the meatballs over. They should be browned. Simmer for another ~20 minutes or until fully cooked.
Sandwich Assembly
Spread garlic butter on both sides of the inside of your sub rolls. I lay it on thick.
Toast for 2 minutes or until butter has just melted. Remove from oven.
Add ~3 meatballs (or enough to fill) to each sub. Layer sauce over the meatballs. You can make them as wet or dry as desired.
Layer cheese over the meatballs (~1-2 slices split in half).
Season with Italian seasoning if desired.
Place back in the oven and bake until cheese is melted and buns are toasted. Enjoy!
Notes:
Prep Time: 8 minutes
Cook Time: 45 minutes
Total Time: 53 minutes
Serving: 7 sandwiches
To adjusting the serving size and ingredients accordingly, check out
this recipe
on Sophie's website and many others.
About the Author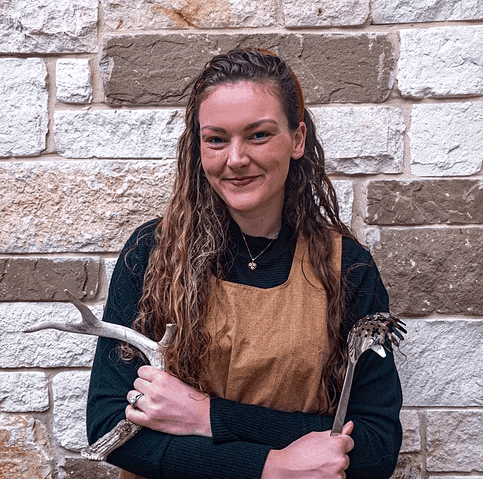 Hi y'all! My name is Sophie Milich May (@wifeofahuntercooks) and I live in Texas. I grew up around hunting with my father and Poppy both going as often as they could. I have even had the fortune to go deer hunting and dove hunting. A year ago I married my husband and he slid right into the family, hunting just as often. He is more adventurous and has had the opportunity to go alligator hunting and brings in the occasional squirrel. Since we have so much game in our freezer AND I absolutely love to cook, I figured I would start a blog of recipes to help others navigate the world of game. The goal is to one day make a cookbook so all of my recipes are easy to access, but, in the meantime, ENJOY!