Christmas is this week! With holiday season in full swing comes Tamale season. We eat tamales every Christmas Eve in my house and this year I decided to make Venison Tamales. I don't know if this is a Texas thing or if other states do it, but I love Tamales on Christmas Eve. Shoutout again to LEM for the meat grinder. It has made easy work of the three deer my husband and I have shot, butchered, and processed at home.
My family, in the past, normally just bought tamales. We didn't go through the elaborate preparation that I know other families do, with each family member having a station in a process that would make Henry Ford proud. To me though when I think about eating tamales I think of my grandparents and family coming over to celebrate and getting to open one present early and overall having a great time!
Making tamales doesn't have to be a scary thing but having multiple people will make the assembly go much faster. I also found some premade ready to go masa that was sensational and cut down on some of the prep time (shortcuts are good!). It wasn't the gritty masa that you sometimes get, it was smooth and tasty! Also, if you don't know how to fold your tamale after assembly, I attached a YouTube video I used at the bottom that I used to do just that! This recipe makes a lot of tamales (~35) so if you don't have a big family or a family with big eaters you can also use the LEM MaxVac 250 vacuum sealer to save them for later! I hope you guys are enjoying this Christmas time with your family and ENJOY these tamales as much as my family did. Merry Christmas!
Equipment
Instant Pot
Steamer/Roasting Rack
Ingredients
16 oz corn husks
5 lbs Azteca Masa Ready to use (Preparada Para Tamales)
1 yellow onion chopped
8 oz Mexican Cheese
1 T vegetable oil
1 lb ground venison
8 oz Frontera Enchilada Sauce Red Chile with roasted tomato and garlic
2 tsp Mexican oregano
2 cans refried beans 1 regular and 1 with jalapeno
Instructions
If you haven't already grind ~1 lb of venison through a fine plate in your LEM Big Bite grinder. Make sure the meat and the head of the grinder are very cold before you start. You can add pork or beef fat to your venison if you want, but it is not required for this recipe.
Soak corn husks in hot water for 30 minutes or until soft.
Heat 1 T of veggie oil in a non stick pan over medium heat.
Add onions and cook until translucent and slightly browned.
Add your venison and cook until done.
Drain any excess liquid from the pan.
Add in enchilada sauce and Mexican oregano and mix until combined.
Remove from heat and set aside.
Once corn husks are soft start to assemble your tamales.
Assemble Tamales
Lay a corn husk glossy side up on the counter with the wide end at the top. Put ~ 1/4 cup of masa (more or less depending on the size of your husk) onto the top half of your corn husk. Use your fingers to push and spread the masa to ~1/4 inch thick on the top half of the husk. If the masa is sticky you can put plastic wrap over top so it is easier to spread.
Place ~1- 1 1/2 T of refried beans in a line down the middle of your masa. Add ~1 T of meat on top of your beans. Sprinkle with cheese.
To wrap your tamales fold in half like a taco. Pinch the masa at the top together so it makes a pocket and roll lengthwise. Then tuck the bottom up and tie off. For the tie I cut extra corn husks length wise into thin strips and used them.
If this is confusing there is a million videos on YouTube to help! I put the link for the video I used at the bottom in the notes!*
Cook Tamales
Add a cup of water to the bottom of your Instant Pot and then place a steamer rack inside.
Place the tamales upright on the rack, with the open ends facing up, tight enough so that they continue standing on their own.
Cook in the Instant Pot on Manual/High Pressure for 25 minutes and then allow the pressure to naturally release 10 minutes before quick releasing the rest.
ENJOY!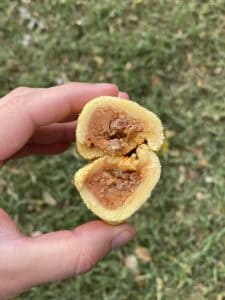 Notes
Prep Time: 45 mins
Cook Time: 1 hour
Total Time: 1 hour, 45 minutes
Servings: 35 tamales
To adjusting the serving size and ingredients accordingly, check out this recipe on Sophie's website and many others.
At 0:55 seconds of this video is how I rolled my tamales
About The Author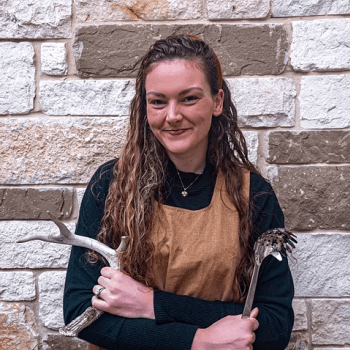 Hi y'all! My name is Sophie Milich May (@wifeofahuntercooks) and I live in Texas. I grew up around hunting with my father and Poppy both going as often as they could. I have even had the fortune to go deer hunting and dove hunting. A year ago I married my husband and he slid right into the family, hunting just as often. He is more adventurous and has had the opportunity to go alligator hunting and brings in the occasional squirrel. Since we have so much game in our freezer AND I absolutely love to cook, I figured I would start a blog of recipes to help others navigate the world of game. The goal is to one day make a cookbook so all of my recipes are easy to access, but, in the meantime, ENJOY!