How To Make Homemade Jerky that Puts Store-Bought Jerky to Shame
For outdoor snacks, nothing beats homemade jerky. And truth be told, it's pretty tasty indoors, too. Packed with lean protein and flavored however you like it, it's the perfect go-anywhere, do-anything food.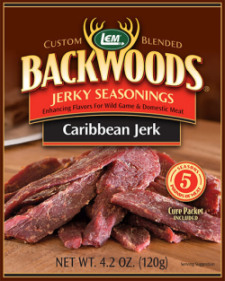 One look at the price of store-bought jerky should answer any question about why you might want to make your own. One taste of our Backwoods Jerky Seasonings should seal that deal forever. When you make your own jerky, you control every step of the process, every cut of meat, and you choose what goes in and how it's seasoned.

At LEM, we cut our teeth on jerky. That's why we have all the jerky making tools you need to make your own jerky and snack sticks, from seasonings to dehydrators, and slicing boards to jerky guns, we've got you covered from end to delicious end. And now that we've got you convinced, let's jump right in.
Your First Decision - Ground vs. Sliced
Before you pick out your seasonings or fire up your dehydrator, you need to figure out if ground or sliced jerky is the best route for the meat you have and the end product you want. Grinding your meat works best if you have lots of leftover scrap from your deer and are looking for something different. Tired of chili and deer burgers? Make some ground jerky instead. It's as easy as grinding your meat in a grinder then mixing with seasonings you've dissolved in a little water.
On the other hand, jerky strips should be made from thin strips of higher quality cuts such as the loin or flank. Marinate, dehydrate, and you've made jerky. If you're taking this route, try our jerky knife and board or our Big Bite 2-in-1 Jerky Slicer and Tenderizer Grinder Attachment. For ground meat, our Jerky Gun and Jerky Cannon makes perfectly formed strips of ground jerky meat. Of course, you will need to season and mix the meat before you use either the cannon or the gun, but we've got you covered there, too.
Seasoning Options
Once you've ground or sliced your game, you'll add seasonings. If you decided on jerky strips, dissolve your seasonings and cure in water and marinade for at least eight hours in the refrigerator. For ground jerky method, you'll mix the seasonings and cure with a few ounces of water then knead the mixture directly into the meat using a meat lug or meat mixer.
LEM offers almost 2 dozen different kind of Jerky and Snack Stick Seasonings. Whether you're looking for spicy sweet or good old fashioned BBQ, there's something for everyone. Each of our seasoning packets come with pre-measured cure in every package, taking all the guesswork out of the process. But, if you'd rather try your hand at mixing your own seasonings, we've included a few ideas here:
Black Pepper Jerky - Food & Wine
Cidered Jerky - Yankee Kitchen Ninja
Chipotle Venison Jerky - Honest-Food.net
Kentucky Bourbon Beef Jerky - Jerkyholic.com

Homemade Venison Jerky Recipe - Outdoor Channel
Finishing Steps
If you decided to make ground meat into jerky strips or snack sticks, our Jerky Gun or Jerky Cannon will help you press it into shape. You'll extrude out meat onto a dehydrator tray or a jerky rack with pan for drying in the oven (the pan catches grease dripping). And while you can always roll it flat and cut it by hand, why would you when you could be squeezing the trigger of the Jerky Cannon and pressing out flat jerky or snack sticks by the pound? If you went with strips, after they've marinated overnight, they should be ready to cook. Depending on whether you decided to finish your jerky in an oven or dehydrator, you'll lay the strips on a dehydrator tray or a jerky rack with a pan.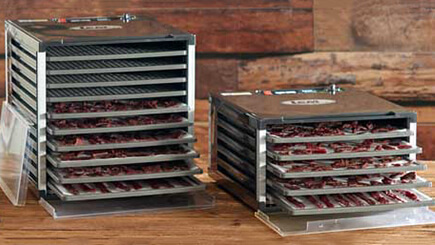 The last step in making any kind of jerky is drying it in the oven or a dehydrator. Finishing jerky in your oven means keeping the heat low, around 200° or less for 90-120 minutes. A dehydrator has a built-in advantage over the oven; it includes a fan that blows warm dry air over the meat. This accelerates the drying process without cooking the meat, so while it can take longer, you'll see a more even cook because a dehydrator offers finer temperature control at low temps and significantly better airflow. And while you can make fine jerky in your oven, you might also consider picking up an LEM dehydrator, we offer models for as little at $79.99 all the way up to the Big Bite Digital Stainless Steel Dehydrator.